Day 6, Thursday, December 16, 2010
On Thursday, I helped Ellen put up her artificial Christmas tree. (a) Here's me inside the box trying to help her pull the three segments of the tree out. (picture 1). (b) Here's me helping read the Assembly Instructions for the tree (picture 2). (c) Here I'm picking out which ornaments to start decorating with (picture 3).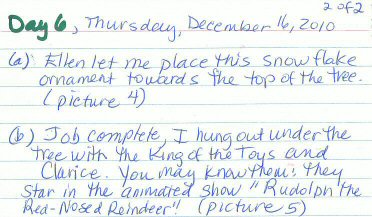 Day 6, Thursday, December 16, 2010 (continued)
(a) Ellen let me place this snowflake ornament towards the top of the tree (picture 4). (b) Job complete, I hung out under the tree with the King of the Toys and Clarice. You may know them: they star in the animated show "Rudolph the Red-Nosed Reindeer" (picture 5).