On the train to Chicago. Just left Ottumwa, IA and picked up a litter of preschoolers and their parents. They have taken over the observation car. Lots of farmer's fields to my right. I think that's west.
Before we left, we were able to get out of the train and stretch our legs at the station. I saw Richard McMahon on the platform and waved. Richard has just finished six months of research at Stanford University and continues to travel and do research on the Irish in America as a Fulbright Scholar. He is from Ireland. We exchanged email addresses, which we had not gotten time to do last night because we were rather chased out of the dining car at 9pm. So, I am relieved that now I have a contact in the area of Irish history, and Irish history in America, specifically. I am getting excited again to work on the Mary Coyle Chase biography. Uh oh. What does this mean for my science fiction time travel novel? Well, it means I better hurry up and finish it.
I was also able to get someone to take a picture of Richard and me.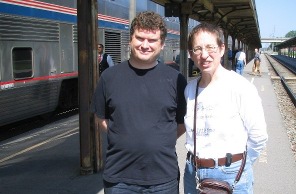 Last night at dinner, Richard mentioned a couple of things that intrigued me: That there is a center of Irish history at the University of Colorado at Denver that I didn't know about and that there is an entire swathe of academia that is excited about anyone publishing work on an Irish person living in America. An important connection I hope.
__________________________

Ellen
Ever learning, Everlasting