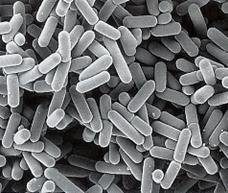 Alton Brown said, "Food + Heat = Cooking." I agree with this, but he never said it was exclusive. Why go to all the trouble of doing work when you can enlist the aid of a few helpers to do it for you? In this case a few billion helpers.
I am currently reading _The Omnivore's Dilemma_, an excellent book by the way, so I am becoming even more aware than usual of the ingredients in food. On a whim I checked my buttermilk. You'd think that buttermilk would have about one ingredient, right? Milk and.. and... what? What else do you need? Meadow Gold Buttermilk contains: cultured lowfat milk, nonfat dry milk, modified food starch, salt, mono and diglycerides, carrageenan, locust bean gum, sodium citrate, vitamin a palmitate, vitamin d3. What is all this crap and why am I drinking it? Not only that, but it is merely low-fat. Why isn't there no-fat option?
Incensed, as I usually am after I read a food label, I went on a hunt to find out how difficult it is to make buttermilk. It turns out making buttermilk is just slightly harder than forgetting to put the milk back in the fridge when you're done with it. I'm serious.
First off you need a culture. Milk can spoil in a lot of different ways and you want it to spoil in a specific way. Here is the source I used. Add the culture to any milk you like (I used skim), and let sit for a day or two until it is buttermilk. Simple, yes? The only wrinkle in my process is the culture requires at least 70F to work properly and during the winter my house doesn't have a spot that's warmer than 65F. Even this spot gets colder at night. I used my yogurt making setup to hold the temperature at 75F. Most folks have an oven with a pilot or a light they can leave on, or usually the top of the fridge is warm enough. Some place, any place, as long as the temperature doesn't go much below 70F. It's not like the bugs die at this temperature, but they won't work as quickly and after a while might be out competed by other bugs already in the milk. If all else failed what I would probably do is throw a heating pad set to low in the oven along with the buttermilk. I'd also put tape over the oven controls because I have learned to anticipate stupid.
And the result? Delightful. Slightly thicker than store-bought, the perfect amount of lactic bite, and the ever-so-slightly chewy texture of buttermilk. I like it better than store bought, and to think I pulled it off without modified food starch or carrageenan. I must be a genius. Mine is also completely fat free.
The second batch is just as easy as the first; just remember to not drink that last half cup of the first batch. You should be able to use one batch to start the next nearly indefinitely. I've had a sour dough and yogurt cultures going for years and both still do exactly what they should.
Cultures for Life also sells a culture for making yogurt at room temperature. Is it as easy as making buttermilk? You'll have to wait for the next blog entry to find out.
__________________________
"we must be the change we want to see in the world"